Charitable Contributions from IRAs
The Pension Protection Act of 2006 first allowed taxpayers age 70½ and older to make tax-free charitable donations directly from their IRAs. By making a qualified charitable distribution (QCD) from an IRA directly to a qualified charitable organization, older IRA owners were allowed to exclude up to $100,000 annually from gross income.
Read more...
Social Security and Government Pensions: The Windfall Elimination Provision
If you receive a pension from a job not covered by social security and you are eligible for social security benefits from another job, your social security payments may be reduced under the Windfall Elimination Provision (WEP).
Read more...
Stormy March drags down markets
March was a rough month for markets. The Dow Jones Industrial Average lost 3.59 percent, the S&P 500 Index fell 2.54 percent, and the Nasdaq Composite was down 2.79 percent.
Read more...
---
Securities offered through Commonwealth Financial Network, Member www.FINRA.org/ www.SIPC.org. Investment advisory services may be offered through Commonwealth Financial Network, a registered investment adviser, and/or BerryDunn Wealth Management, LLC, a state-licensed investment adviser. Advisory services and fixed insurance products and services offered by BerryDunn Wealth Management, LLC are separate and unrelated to Commonwealth. 100 Middle Street, Portland, ME 04101. 207-541-2200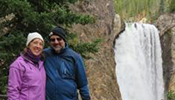 GET TO KNOW US
Perhaps you have not personally spoken with Donna Buyze here at BerryDunn Wealth Management. However, her work is integral in the service we are able to provide to clients.
Read More...
---
FINANCIAL TIP
Fact or Fiction?
True or false?
A QCD can be used to satisfy all or part of your required minimum distribution (RMD), and you won't have to pay taxes on the amount distributed.
Get the answer...
---
CONTACT US
Barbara Appleby
JD, MA, AIF®
Kristin Guibord
MBA, AIF®
FOLLOW US